EVALUATION OF UPGRADE POSSIBILITIES REGARDING THE PROJECT "QUANTUM POD"
The purpose of this document is to describe possibilities regarding project upgrade, both hardware and software of Quantum Pod devices, with guidelines and costs estimation.
WHY UPGRADE IS IMPORTANT?
The main reasons for project upgrade is to provide better user experience, increased quality of service for the same/lower production price as well as decreased "time to market".
HOW TO UPGRADE?
Regarding hardware components devices upgrade, all necessary upgrades should follow and include industry standards regarding documentations, drawings, blueprints, so production is not depending on particular manufacturer/company, parts supplier etc.
Regarding software components upgrade, things are much more complicated because of fast changing environment in IT industry. Software must meet the following requirements:
– application software is hardware and OS independent (can run on various operating systems eg. Windows, Mac OS, Linux, Solaris)
– software is modular (owner can easily enable/disable software features) so one build can be distributed to various customers/devices
– additional precautions needed for mobile app, because of huge device fragmentation regarding OS, memory, equipped sensors etc.
– mobile app should run on Android and iOS (iPhone, iPad) devices and must provide required software features regardless of phone model and equipped sensors
PROJECT SECURITY
1. Hardware and firmware (microprocessor software) should be developed independently to avoid any misuse of provided documentations and source code.
2. Application software should be developed independently of hardware and firmware.
3. Development team is ranked by security clearance from L1 to L5
4. L1 members are project owner(s) and Head Of Development
5. Control of internet access should be monitored by System Administrator with rank L2
REQUIRED HARDWARE – FEATURES
WiFi connectivity
Video output
Face recognition module
Light control module
Sound control module
Remote user input interface
Data input/output interface (I2C, SPI, One Wire, USB, ADC, DAC)
What exactly needs to be done?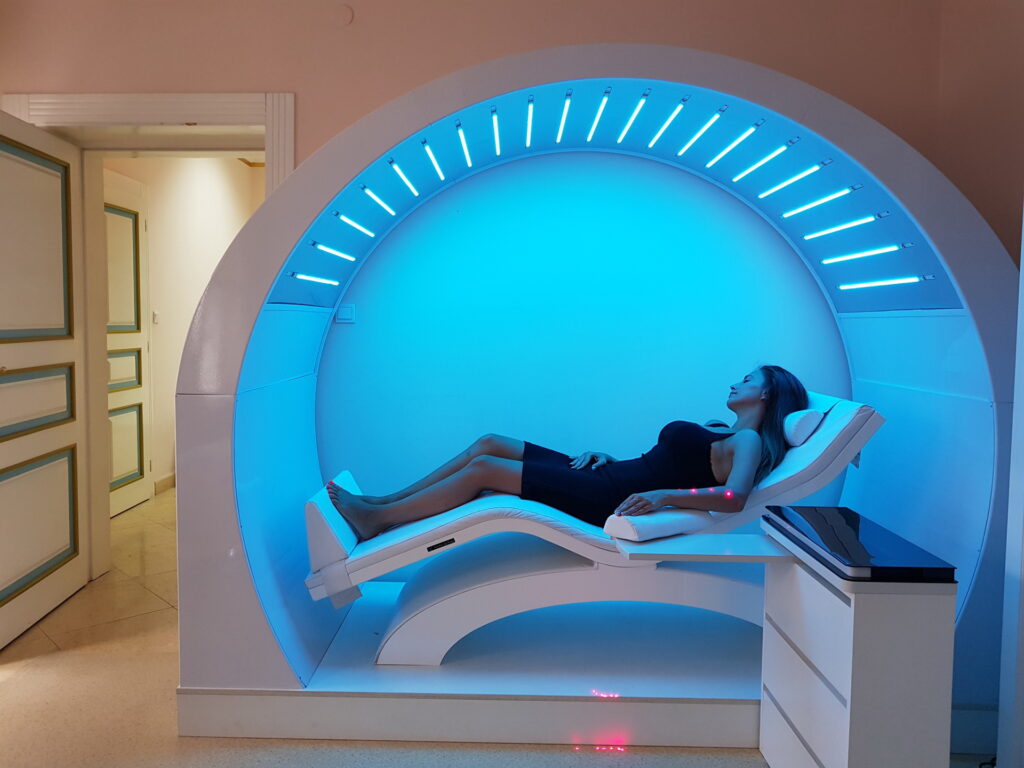 CURRENT QUANTUM POD IMPROVEMENT
Visual, ergonomically and user-friendly relevant improvements
Testing and implementation of Vibro acoustic therapy
Testing and implementation of infrared therapy modules;
Addition of relevant electrical and passive equipment;
Ergonomically and technological improvement of seating/laying area;
Production of detail design draft documentation and trial sampling relevant to new Quantum Pod production;
Improvement of handling and using hardware/software solutions for the practitioners.
Izrada radioničkog crteža

za konstrukciju kapsule

na osnovu novog dizajna kapsule.
Izrada idejnog rešenja i radioničkih crteža za obloge kpsule.
Idejno i tehničko rešenje za led i infrared lampe u plafonu kapsule.
Idejno tehničko rešenje za ovaj model stolice biće iskorišćen od postojećeg modela uz male ispravke ukoliko bude potrebno.
NEW SOFTWARE AND HARDWARE SOLUTIONS
Design and creation of software and applications relevant to gathering and automating client relationship satisfaction and experience.  
ENERGY RECHARGE Quantum Pod software and hardware development.

The app will gather all diagnostic-therapeutic modules of the Quantum Pod
Hardware and software will enable centralized control of remote centers.
The app will gather all information about users, inclusive of guidelines and Law stipulations as per the country specifics, in order to understand the client's journey and improve offer and final results. The app will connect all Nutree client points (water running, Quantum Pod, anima, restaurant …)
Our determination is to create contactless and meaningful experience for clients.
REQUIRED SOFTWARE – FEATURES (STATIONARY)
send session data to centralized DATA CENTER
• offline mode resistance OMR (sends data as soon as internet connection is made)
• remote access for device (Capsule) control
• user recognition (Face ID,Smart Card, NFC, Mobile App)
• TTS (greetings voice messages)
• real time session monitoring (RTSP protocol)
• display real time session data to video output.
REQUIRED SOFTWARE – FEATURES (MOBILE APP)
Log session date and time
• Send data to centralized DATA CENTER
• Load session data from centralized DATA CENTER
• Device (Capsule) control, light, sound, music etc.
• User recognitionThis. QR code scanner
• Receive notifications and/or any related data from centralized DATA CENTER
 USAGE SCENARIO
User starts mobile app and scan QR code provided on capsule (user is recognized)
QUANTUM ZONE Capsule responds with greetings message (TTS)
User sets light, music/sound, video animation that is played on QUANTUM ZONE
Capsule built-in display
User choses session type and duration offered in mobile app listing
User can monitor session progress (progress is displayed on QUANTUM ZONE
Capsule built-in display)
Session data are saved locally in mobile app for later use and data are sent to
centralized DATA CENTER (if user is offline, app switch to OMR)
User gets notification/report from centralized DATA CENTER
WHAT CAN WE EXPECT?
Better user experience achieved
Increased quality of service achieved
Same/lower production price achieved
Decreased "time to market" achieved.
CONCLUSION
As mentioned above, the purpose of this document is to describe possibilities regarding project upgrade, both hardware and software, with guidelines and costs estimation.
Estimated time for required capabilities and features development is 6 months + one month for intensive tests.
Estimated costs for development of Current Quantum Pod improvement, design and production of new Quantum Pod prototype and implementation of new hardware and software solutions of QUANTUM POD Capsule are roughly 250.000 EUR.
For any specific details, regarding development tools, programming languages, software platforms, hardware components etc. interested party should sign Non Disclosure Agreement (NDA) in order to have access to required information regarding further development of project "QUANTUM PODS".